(click here to read about) Our 2015 Christmas Newsletter
Author: Scarpantoni Family & Staff Date Posted:30 November 2015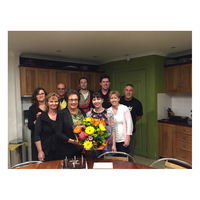 Paula turns 80!
The most permanent fixture at our cellar door, Paula Scarpantoni, turned 80 October this year. Although she is now taking it a bit easier and not seen as much on the weekends, she still spends every weekday buzzing around tending to her roses, feeding her offspring and occasionally still tending behind the bar. Paula came to Australia in 1957 at the age of 23 and immediately settled in McLaren Vale where she has lived ever since. She has been an integral part of the winery and witnessed a huge evolution of the region and country and has become a well known and loved identity within the community as well as to many of our cellar door visitors over the last 36 years. We all hope she keeps going strong for many more years to come.
Happy Birthday Paolina!
This Newsletter Christmas offers
For our members and for all you big red lovers, we have a fantastic offer in this Christmas newsletter on one of our most highly awarded wines, the Brothers' Block Cabernet Sauvignon. This recently released 2010 vintage, like its predecessors, has loads of briary chocolate and mint up front with a rich black current and cassis palate, a subtle touch of vanillary French oak and silky soft tannins on the finish - just perfect to start drinking now and even better over the next 3 years. It will not disappoint, so take advantage of this great offer. For lovers of white wines and fans of the School Block Red, we have a double special offer for both the School Block Red and the School Block White. These are both great drinking wines right now, so why not have some handy for this Christmas season!
So, from all the Scarpantoni team we wish you all a safe, happy and peaceful Christmas and New Year.
Cheers
Michael & Fil Scarpantoni
A New Class
2015 School Block White
The new kid on the block, School Block White, is fast establishing itself as a great all-rounder white wine. As some of you may know, we do not normally display any of our medals or awards on our wines. However, in this case, we were extremely chuffed with the awards so far, which clearly vindicate all the years of hard work growing, making and blending selected varieties to create a white wine in the School Block philosophy, showing that the greatest wines are blends. Already this year it is off to an impressive start, winning a Gold medal in its first outing at Cowra as well as winning the Trophy for the Best dry white in show then following with another Gold at the Perth National wine show and also a Silver in Adelaide. This is a great vintage, the wine shows lifted gooseberry passionfruit and lime on the nose and on the palate with a touch of grapefruit, beautifully balanced and lingering palate with a nice crisp clean stealy finish. This is the perfect summer drinking wine now, but also suited to a bit of cellaring. So, enjoy it now when its fresh but be quick, as unfortunately we did not make much this year. Take advantage of our fantastic Christmas offer - it's a delicious wine and great value.
---
Leave a comment