(click here to read about) Our 2016 Winter Newsletter
Author: Scarpantoni Family & Staff Date Posted:1 July 2016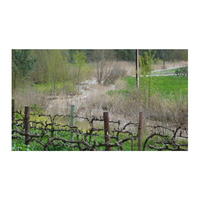 2016 Winter Newsletter
Abundant Rain & Abundant New Release Reds!
This winter we have not only had a wonderful start with early rain, but, as usual, we also have a great selection of new release winter reds for you to enjoy. We have a Very Special Offer on two selected wines: - the new release 2012 School Block Red – the perennial favourite – and the new release of the 2013 California Road Old Vine Shiraz, both excellent vintages and great wines that I know you will enjoy.
Also on the new release list, and at our usual 15% winter reds discount offer, are the 2014 McLaren Vale Shiraz, a classically rich, soft, luscious and typically McLaren Vale Shiraz, and our 2012 McLaren Vale Merlot, which is also quite rich, but soft and chewy, with hints of tobacco and mulberry. The new 2014 Durif is also now available and with its big plummy and soft fruit flavours, it's an excellent wine to quaff this winter next to a big open fire. Last, but not least, is our new release of the 2013 Block 3 Shiraz. What a vintage! It is slightly bigger than the 2012, with more dense blackcurrant, cassis and vanilla overtones – highly rewarding now, but obviously will have great cellaring potential, as usual. We do not have a lot of this vintage, so don't miss out! We hope you stay well and warm this winter and that you enjoy some of these great red releases! Michael Scarpantoni
Water of Life
If wine is the liquid of love and fun, then water is the liquid of life. Without it nothing flourishes. This winter marks a return to the seasons of past - soaking rain, and lots of it, filling all the dams, creeks and rivers. It's great to see all the veins of the region swelling with the lifeblood of the land. Hopefully the season of plenty will continue and we will see the farms and vineyards enjoying a healthy resurgence of food and produce. Although it's still early, and farming in any form is always a gamble in Mother Nature's hands, let's hope for an excellent 2017 vintage!! Fil Scarpantoni
New Varietal Release – 2015 Gamay
Introducing a new wine to our varietal range, the 2015 Gamay. Some of you may know that we have been using our Gamay fruit for many years in our highly successful and awarded Rosé but many will not know that in the 80's and 90's we used to produce only red wine from the fruit until we discovered its excellent potential for Rosé. As the fruit from the 2015 vintage looked so exceptional, we decided to use some of the Gamay fruit to produce a red wine as well. This limited production and possibly one off wine, is a great example of what Gamay is all about. It is a somewhat heavier Pinot style of wine with lingering flavours of strawberries and raspberries and touches of violets - classically French and ideal with foie gras, cheeses and rich dips. If you like to be different and try something new, please grab some before it's all gone, as we don't know when the next one will come along.
---
Leave a comment