(click here to read about) Our 2015 Winter Newsletter
Author: Scarpantoni Family & Staff Date Posted:6 July 2015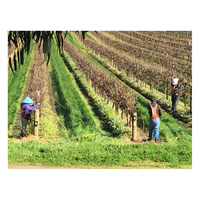 School Block Red - "The Classic Favourite"
Our most consistent popular wine, the School Block, has been produced by us for over 23 years. The first release was the 1992 vintage, which instantly developed a loyal following. Full, soft and always approachable, the School Block seems to capture much of what wine lovers enjoy about South Australian reds – at an honest price. It's reputation and quality have ensured its popularity over the past two decades and we are confident that this will continue with the new release of the 2011 vintage.
The foundation of what became the School Block was the Cabernet Merlot, produced in the mid 1980's. The development of these wines identified a demand for a softer, yet still fuller, style wine. Although Cabernet Sauvignon and Merlot are classic varieties from Bordeaux in France, the intention was not to make a Bordeaux style of 'lean and mean' red, but rather one that had real generosity and "drinkability". It wasn't long before we discovered that the addition of Shiraz as the major component to the blend, would achieve the 'generosity' we intended.
The current School Block is from the 2011 vintage and it's very much in the classic style. Full-bodied, soft, full of rich, chocolatey dark fruits with hints of gentle spice, it's more than ready to enjoy now but is happily going to mature for a while longer for the patient (and lucky) few with cellars.
In celebration of our latest School Block release, we have a great offer for our members for the month of August only, so don't miss out!
---
Leave a comment